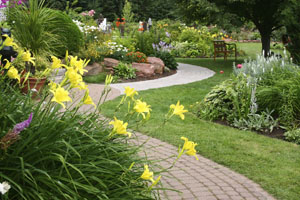 Warm Winter Temperatures..
How will it Affect your Yard?
With such warm temperatures, and damp weather this winter, what should you expect in your lawn this year?
Weeds,Bugs,and a likely all out assault on your lawn and shrubs. Large Patch fungus(formerly known as Brown Patch) has been and will likely continue to be active. Cool temperatures and high humidity create the perfect environment for Large Patch to flourish. You have likely seen it...as large yellowish/purple then brownish splotches in the lawn. It can be treated, but as conditions remain ideal...it will continue to wreak havoc on area lawns.
Fungicides are expensive and typically have to be reapplied multiple times in order to see success. Zoysia, St. Augustine, and Centipede lawns are the most susceptible to Large Patch. High fertility levels and irrigation can encourage Large Patch Fungus to spread..so keep both to a minimum.
Cinch bugs are likely to be bad this year. We were shocked to find heavy cinch bug populations in a Fleming Island lawn this year on January 8th. They became a new client...but it is likely a foreshadowing of a tough year to come when trying to manage cinch bugs. We normally don't start seeing any cinch bugs until late March or April. Warm temperatures have allowed populations to overwinter and should mean lots of activity in St Augustine lawns this year.
Weeds that normally shouldn't show up for another month or so are already starting to emerge. Pre emergent weed controls should be going down quickly if they are to be effective this spring.
In general, it seems the calendar in many respects has jumped ahead by a month. However, I wouldn't rule out the possibility of a freeze in our future. History tells us that March 15 th is the date that most of our freezes are over...but not always.
In short, get out your turf pre emergents, keep an eye out for insect activity, and Large Patch Fungus, and keep your watering to a minimum.
Cheers on a great 2017 season....
Bob and your friends at TLC